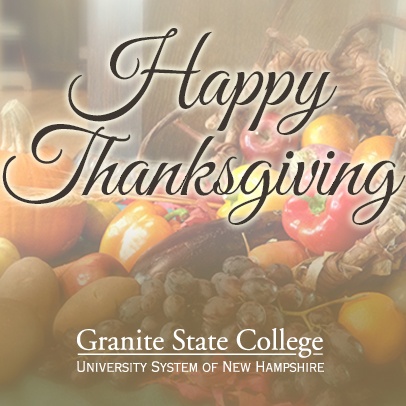 It's Thanksgiving! It's a time for turkey, football, and family. It's a time to think of all the wonderful things that make you so thankful all year round.

Here are just a few of our moments that remind us of why we're proud of the GSC community and thankful to serve our students.




Our new Granite State College president

In April 2015, we welcomed Dr. Mark Rubinstein as the sixth president of Granite State College. Our students, alumni, and friends are having a tremendous influence on how he views higher education. If you haven't had the opportunity to meet Mark, here are the Top Five things you should know about our new President.





Strengthening our Community College connections

The math is simple: the most affordable associate degree + the most affordable bachelor's degree = the most affordable degree (period). This is what you can achieve when you transfer from a NH community college to GSC. We're thankful that we can build meaningful partnerships with community colleges so students can get a high quality and affordable education in New Hampshire.

Our veteran community

We were thrilled to be honored as a "Best Online Program for Veterans" by U.S. News and World Report. While recognition is wonderful, we're proud of what it took to get there. From our participation in the Yellow Ribbon Program, to our partnership with American Corporate Partners that provides long-term career development for veterans, we're thankful that we can offer veterans the resources and support they need.





Our teachers

An important goal of our School of Education programs is to provide education for every stage of a teacher's career. The introduction of our new master's degree programs help us do just that. Check out the new M.S. in School Leadership with focus areas in Instruction and Leadership, Library Media Specialist, and School Principal.





Our extended family

For many students, their journey at GSC has an impact on their entire family. Although they're not enrolled at the College, the loved ones of our students (and the support they provide), play an enormous role. Nowhere is this more evident than on Commencement – relive the memories!

Giving you a quality education

Class after class, term after term, you're putting a great deal of work into your education. It's important to us that you know that it's one of high quality. We once again topped U.S. News and World Report's "Best Online Degree Programs" list for both undergraduate and graduate degrees and our nursing program received its accreditation from the Commission on Collegiate Nursing Education.
What has made you thankful this year? Share your story below!