It's common knowledge that the health care industry is rich with job opportunities, but what does the actual career outlook really look like? Are you a good fit for health care management and how do you break in to the field?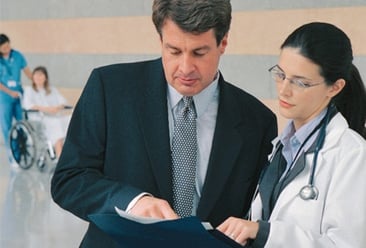 When you work in health care management, your primary role is to plan and coordinate the health services in your workplace. This may involve managing a medical office, a department in a health care facility, or an entire organization.
You'll likely engage with nursing staff and other medical professionals but instead of providing direct care, your role will focus on building the resources and structure to make sure you're all working together to make a difference.

Like any good career path, it all starts with education. Health Care Management is now a popular undergraduate major and it shouldn't be difficult to find a local college or online program near you. Just at Granite State College, we offer Health Care Management, Allied Health Leadership, Health Information Management, and Health and Wellness.

What's so beneficial about these majors is that they're interdisciplinary: part business, part health care. This combination gives you footing within the health care industry and an understanding of business and policy that you can apply on-the-job. For instance, as a health care manager you need to know the latest news with health care policy not only to help patients and protect their privacy, but also to make sure that your organization has the systems in place to support any changes. You may need new computers, technology, or special staff to support the policy change and it's up to you as the manager to help make those decisions.

There are certain qualities that a top health care manager should embody, according to the US Department of Labor. These include analytical skills, communication skills, detail oriented, interpersonal skills, problem-solving skills, and technical skills.

On a national level, job opportunities for health care managers are on the rise. One specific area of growth will be in the offices of health practitioners as they take on many of the services that hospitals previously performed.

Health care management jobs in New Hampshire will also see growth. Top industries in New Hampshire for this occupation include ambulatory health care services, hospitals, and nursing and residential care facilities.

The salary range for these positions varies. Depending on experience and education, wages for health care management jobs in New Hampshire range from approximately $60,000 to $100,000 per year. Nationally, salaries range from $53,000 to more than $150,000.

If you're just emerging from a bachelor's degree program, remember that it will take a few years' worth of experience to grow to the management positions. Seek out organizations that offer room for you to advance from the assistant-level to more advance work. Positions that expose you to new and innovative technology within health care, as well as positions that interact with policy and regulation (and how your organization can respond), are especially helpful.
Start your job search by visiting some health care specific job boards like CareerVitals and Health eCareers. Stay tuned in to your local community for potential about word-of-mouth opportunities and visit job fairs to shake hands with hiring managers. Young professionals use Stay Work Play New Hampshire as a resource - they share a collection of local jobs every week on their social feeds!

As always - If you're a GSC student looking for health care management jobs in New Hampshire and want help, chech out our career planning and job resources for support.
Sources:
Bureau of Labor Statistics, U.S. Department of Labor, Occupational Outlook Handbook, 2014-15 Edition, Medical and Health Services Managers, (visited September 28, 2015).

Economic and Labor Market Information Bureau, New Hampshire Employment Security. Top Career Prospects, Medical and Health Services Managers, (visited September 28, 2015).